From the University of Waterloo Alumni Magazine, Winter 1996 issue, page 19.
Waterloo, Western, and Queen's grads
make beautiful music together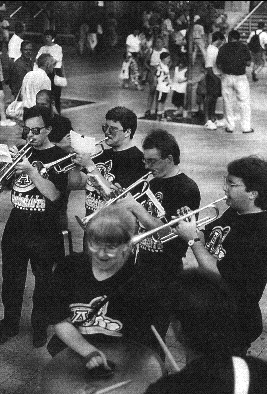 UW grads Gord Payne, BES '89, Steve Morris, BMath '93, Andrew Darbyshire, BES '88 and David Keith, BMath '90, serenade Argonauts fans outside Skydome, while Angela Chambers, BMath '91, wields the cymbals.
---
The Toronto Argonauts may have had a dismal season, but it was a great first year for Argonotes, their new band. In spite of musical accompaniment by a group of alumni from Waterloo, Western and Queen's under the direction of Steve Hayman, BMath '81 MMath '85, the football team lost most of their games. Hayman reports that the Argos did win their last game, but notes, "this was, not coincidentally, also the best performance of the year by the band."
Hayman, a former leader of the UW Warriors Band, conducts the 30 or so Toronto-area alumni who make up Argonotes. "We're not exactly a marching band," he says, "but we do move around the stadium before, during and after the games to make sure that everyone gets a chance to hear our dulcet tones." The band plays in front of Skydome before each home game as fans arrive, and again afterwards as they leave. Between plays, the band moves from level to level in the stands, making music that sometimes includes the other team's theme song. "One of the highlights this season was performing O Canada on the field before the game against Saskatchewan," Hayman says. "We were the only people to do the anthem live this season - everyone else was lip-syncing to a tape."
About half the musicians are UW grads. John Capell, OD '74, makes the two-hour drive from Mount Forest for the chance to play his clarinet with a group again, something he misses after his years with the UW Concert Band and the Warriors Band. "We're not there to joke around," he says. "We're there to play as well as we can. But we do have a lot of fun, and we see some good games. It's been very rewarding for me."
Cymbalist Angela Chambers, BMath '91, another Warriors Band Life Member, appreciates the social aspects of the band. She has met everyone from great-grandfathers to students. "And the fans like us," she comments. "We've had them come up behind us and tell us we're the best thing to happen to the Argos in years!"
Hayman is actively recruiting new members for the band, which now also includes non-alumni. "Despite the shaky nature of the CFL at the moment," he says, "I'm in this for the long term. I'd like to have a band of 100 people within five years." As perks, band members this year received Argos T-shirts to wear as uniforms, along with complimentary tickets to each game for family or friends.
If you're interested, you can reach Hayman by phone at (416) 769-2847 or by e-mail at shayman@next.com.
---
Back to the main Argonotes page